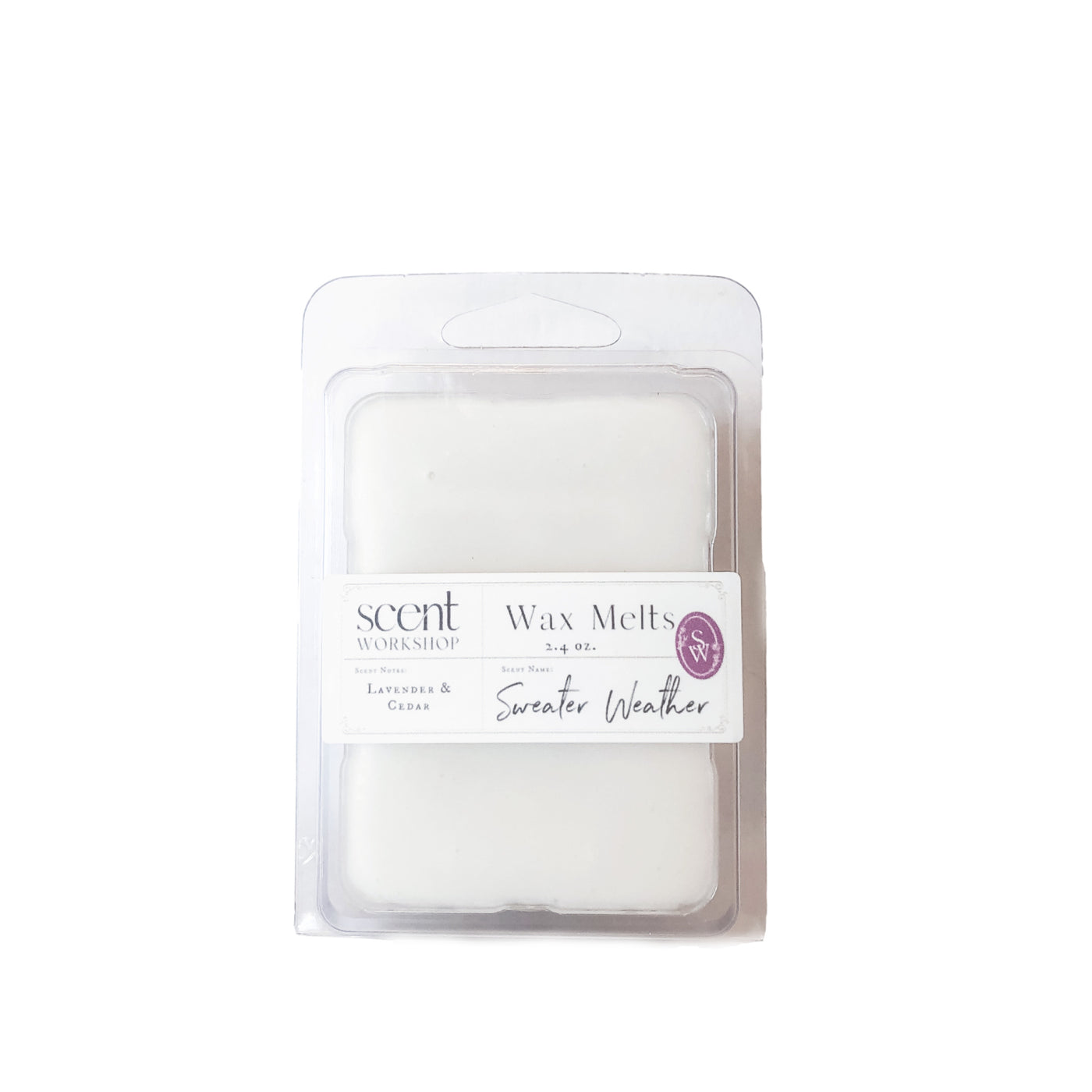 Wax Melts
$7.00 USD
For a flameless scent experience, try our Wax Melts. Made with 100% soy wax, these wax melt cubes contain the maximum amount of fragrance to enhance scent throw. Simply break apart a cube and place it on a warm wax melter. 

Scents: 
Cardigan: cashmere + vanilla amber - cozy and slightly sweet
Clean Sheet Day: rain, ozone + citrus - fresh and clean 
Feminist: rose

+

 sandalwood - soft but equal parts feminine and masculine
Gratitude: tropical fruits - a bright and energizing citrus and tropical blend
House Cologne: tobacco, amber

+

 moss - fresh, masculine, and warm
Ireland: clover woods + fraser fir - fresh and masculine  
Jumping Waves: sea salt

+

 blue oakmoss - fresh and slightly masculine
Old Flame: palo santo + oud - warm and woodsy 
Provence: lavender - calming 
Sweater Weather: lavender

+

 cedar - calm and woodsy, gender-neutral 
Trouble: black currant + oud - bold and sexy 
XOXO: dark plum

+

 oak - deep and sexy with a hint of juicy plum and bold woods
Seasonal Scents: 
Fresh Start: lemon 

+ cedar - clean and citrusy 




Porch Swing: honeysuckle + grass - fresh and floral 

Spring Garden: lavender + lilac - floral 

Getaway: grapefruit + pineapple - citrusy 

Happy Hour: coconut, lime + rum - fresh and fruity 

Savannah: white tea + peach - fruity 
2.4 oz. 
6 cubes per container