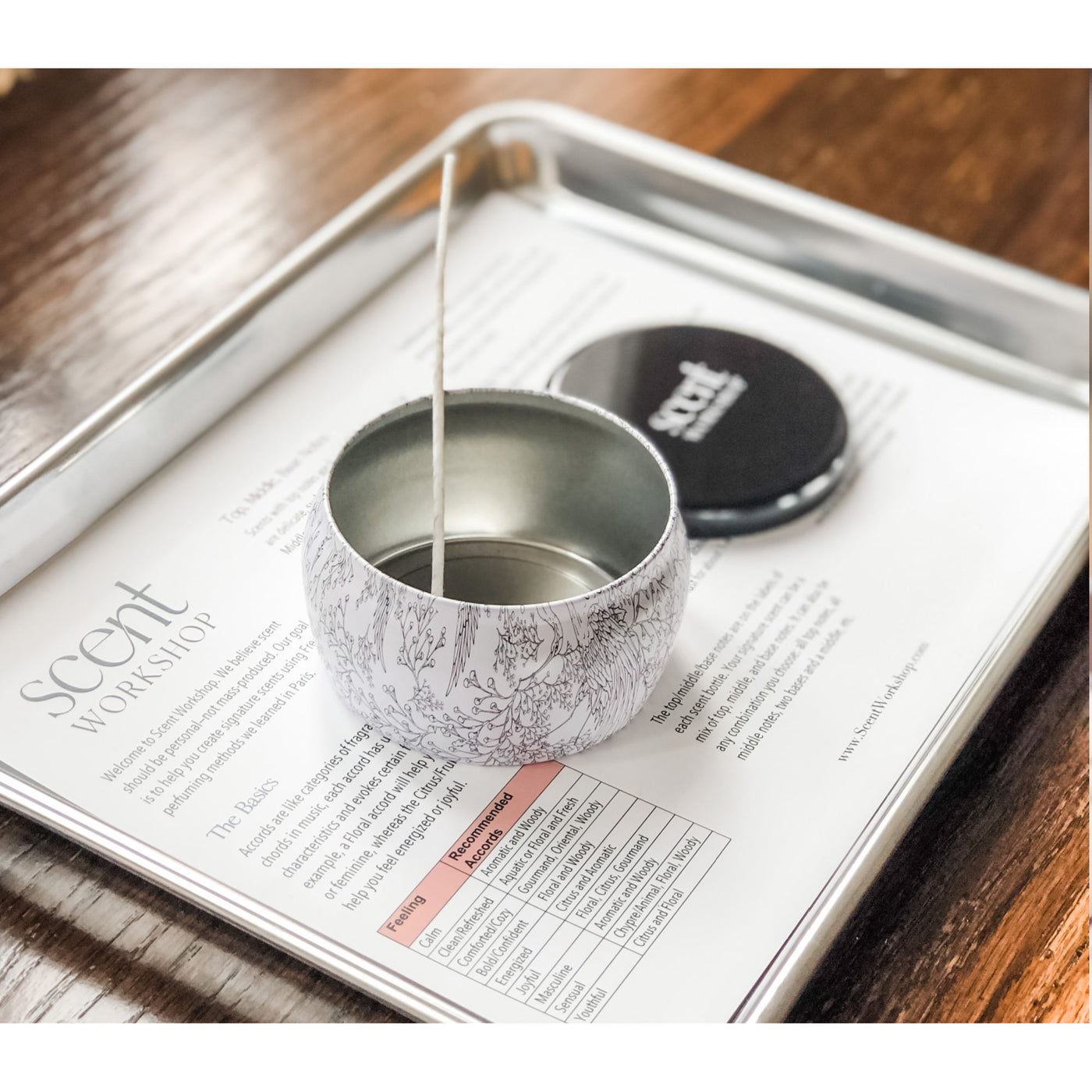 Candle / Perfume Workshop Galena
$30.00 USD
*To register, please select a Date and Time from the Calendar above. This workshop is at our Galena, IL location. 
During this workshop, you will learn the fundamentals of perfuming and candle-making. Then, you'll choose scents from our wall of more than 60+ fragrances to create your own custom scent. Once you have your recipe, we will make the candle or perfume of your choice. All items are hand-made with natural ingredients, including soy wax and coconut oil. 
Each workshop takes approximately 2 hours. 

This workshop is conducted at our store: 307 S Main Street in Galena, Illinois. Please arrive up to 15 minutes before your workshop time. Workshops begin promptly. 
All participants assume their own risk by participating in the workshop, which includes but is not limited to wax and oil spills. If you are sensitive to scents or allergic to coconut oil, this is not the ideal environment for you. 
Bring your own cups and beverages (including wine).  
A portion of the proceeds is donated to empower women with micro loans for entrepreneurs.
Fun, Personalized Experience
My husband and I created personalized scents for candles and perfume/cologne. We had so much fun mixing our scents and finding what best suited our moods. We had plenty of time to create what we wanted. Our sales associate was very experienced and kind. We loved that the workshop was BYOB. What a great idea for couples, girls date, or mother daughter activity! We will definitely be back!
Wonderful!!
I had a great time at the workshop! Lilly helped me and I love the candle and perfume I made! I'll be back with my daughter! Thanks!
Candle / Perfume Workshop Galena
Can I give them 10 stars?!!
Hosted a bachelorette party that was kicked off by doing a scent workshop. I planned from Colorado and they made it simple and stress free to plan, even from that far away. They were beyond accommodating with all our requests and bigger group size, they helped us get into a fun ladies night vibe with a good playlist, and made sure everyone got one on one help to make the scent they would be excited about.
It was such a good experience that one of the other brides to be in the party cancelled her wine tasting for her upcoming bachelorette party and rescheduled to come back with her friends and do this instead.
Fun date idea
My BF an I visited Galena during the holiday season and the scent workshop candle making & perfume workshop was a perfect afternoon activity for us. A new experience to both of us and we love the candles and perfume oils we made - 10/10 would recommend to anyone looking for something to do!