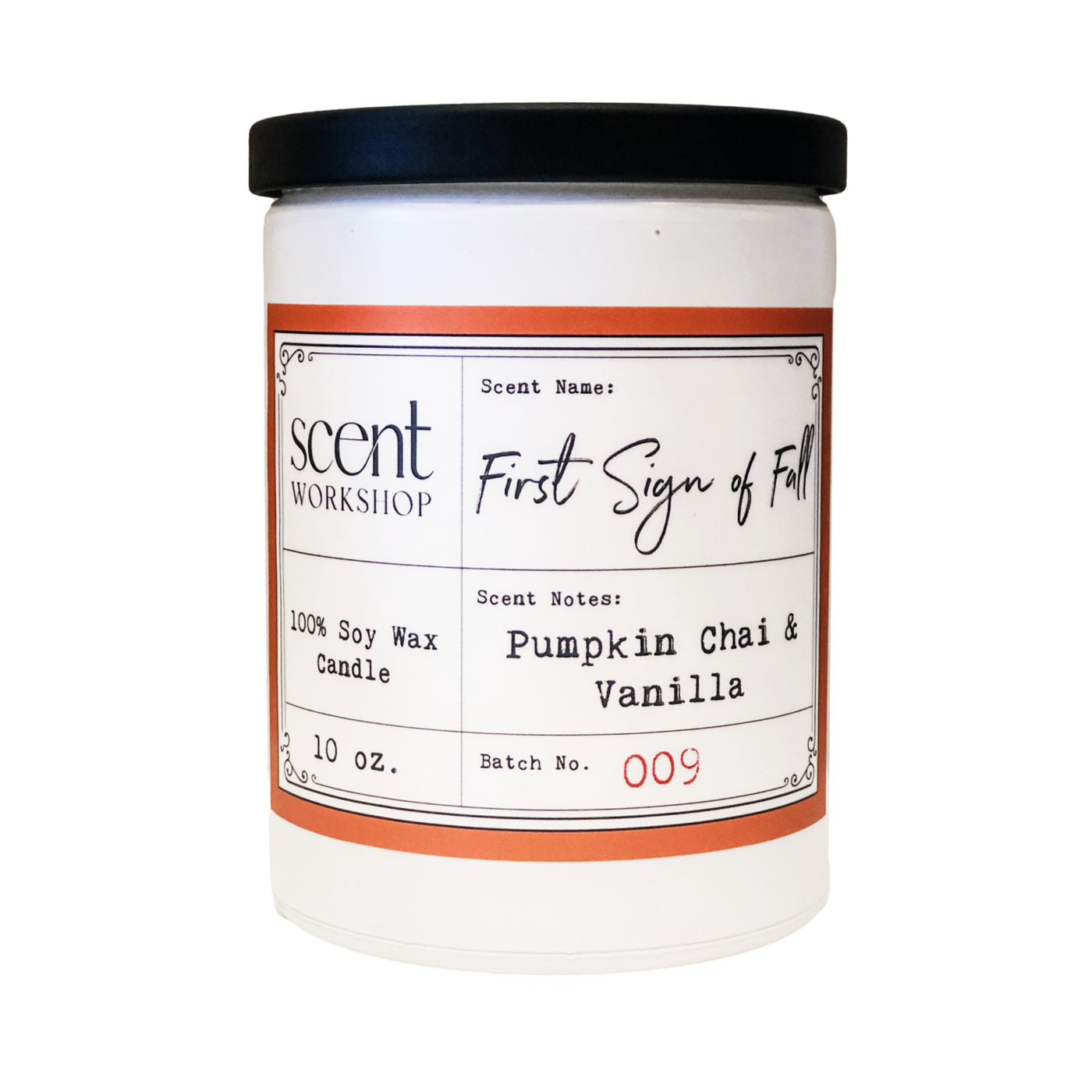 First Sign of Fall Candle
$24.00 USD
The First Sign of Fall...it's not the first leaf or acorn that falls from the oak trees. It's not the return of sweater weather or the sounds of a high school football game on a Friday night. The first sign of fall is when pumpkin spice lattes are back in the coffee shops.
As the air turns chilly, warm up your space with the cozy scent that ushers in the first signs of fall. This pumpkin spice candle is an intoxicating mix of pumpkin, all spice, nutmeg, vanilla, and chai for a balanced aroma that's not too sweet and not too spicy. It is reminiscent of all the fall baking you wish you had time to do. 
Details: 
10 oz. 
Burn time: approximately 50-60 hours
Hand-poured from small batches in Greensboro, NC
100% soy wax 
Eco-friendly wick made of cotton and paper 
Lead-free and zinc-free 
Phthalate-free
Premium-grade essential oils and fragrance oils 
Ethically produced 
Great Smelling Candles
I loved the smell and thought it fit the theme perfectly!
This smells amazing!
Fall is my favorite time of year, and even though I live in Texas I still want that warm house, crisp night feeling. This candle really is the smell of all things Fall and more. It also is burning clean and even which Iove!
Cozy Hug in a Jar
I absolutely LOVE this candle scent and that it is slow burning! It makes my house smell amazing and feel so cozy. Great gift for the holidays!
This candle IS fall.
I thought it would be too much, it's not. But, it IS awesome. Slow burning and a great fragrance.
Amazing scent, outstanding quality
I start burning this one as soon as I get home now, as it's the exact seasonal scent that I was looking for! Also, I'm amazed at how strongly it smells after burning for just a few minutes. However, the candle itself is burning down incredibly slow and evenly, which of course, I appreciate greatly. I'm excited to try many more of these incredible candles.